Spring Creek Oaks has 3 locations with tennis courts and pickleball courts:
Clubhouse 2 (Bur Oak at TC Jester) has 6 tennis courts,
Kuehnle Courts (Winding Ridge and Fellowship Lane) has 4 tennis courts
Clubhouse 1 (Misty Creek) has 1 tennis court with a backboard, 2 pickleball courts with permanent nets, and 2 pickleball courts with portable nets.
These tennis courts are operated and maintained using funds collected and allocated by SCOCIA. The Tennis Committee operates and maintains the courts as a standing committee of the SCOCIA Board.
The tennis courts are available for SCO residents and their accompanied guests daily until 11pm. The pickleball courts at CH 1 are available from 7am to 10pm. SCO tennis courts are used primarily on a walk on basis but can be reserved for league play and practice. To gain access to the courts, residents must submit a deposit to receive a gate key from the tennis committee member in charge of keys as the gates are to be locked at all times. Currently, the deposit is $20 and must be paid by personal check made out to SCOCIA.
Tennis Committee contacts:
Tennis Court Rules and Guidelines for League Play can be found on the website under Rules and Regulations.
Men's Tennis:
Men play league at night. The league is North Suburban Tennis League of  Houston (http://www.nhml.tenniscores.com)
B team plays on Tuesdays
C team plays on Thursdays.
Women's Tennis:
Pickleball
Currently, we do not have any pickleball league teams in SCO as the courts were just finished in January of 2020.  If anyone is interested in starting a team, please contact courtscheduler@springcreekoaks.org,
Most Tuesday, Thursday, and Saturday mornings at 9, we have a casual "meet and greet" play day at CH1 courts, open for residents and their accompanied friends. It's co-ed, and for beginner to intermediate level players. No sign-up needed.
In-House Tennis Pro

Danny Cardenas offers group and private lessons as well as homeschool and off campus PE tennis classes. He can be reached at 254-749-9569 and dannyc1010@outlook.com. Danny accepts cash (exactly change please), Venmo, PayPal, Zelle, and personal checks. Please contact him directly if you have any questions.
Children's and Juniors' Class Schedule.  
All the classes are held at Kuehnle courts 3 and 4, but some Thursday and Friday mornings, classes may be moved to a different location to accommodate ladies tennis league matches. For most updated class information and pricing, please visit Coach Danny's website at https://dctennisacademy.com/
Adult Class Schedule (Kuehnle Courts 3-4)
Monday 8:30 – 10:00am – Ladies drop-in drill, $21
Monday 7:00 – 8:00pm – Adults drop-in drill, $16
Private lessons are $65 for one hour with up to 4 players. ($75 for non-SCO residents)
Please contact Danny directly to arrange for a lesson.
Danny's Bio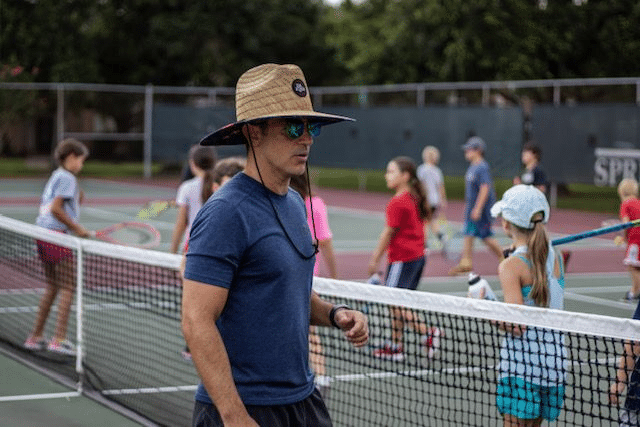 Danny grew up in South Texas playing tennis. He has been teaching tennis for over 15 years. He attended Baylor University and was a part of the Men's tennis and big twelve championship teams as well as the national championship team and worked Baylor Tennis camps as well as Malibu tennis camps out in California for over 11 years. Danny was a tennis pro at Cimmarron Country Club in Mission, Texas for 2 years before moving back to Waco where he became Director of Tennis a Waco regional tennis center. He is USPTA tennis pro certified and has been tournament director for multiple USTA sanctioned tournaments and has been instructing at Copperfield Racquet and Health Club for the last 3 years. Danny has worked with all ages and worked with all levels from small children, beginning to pro level tennis. Danny enjoys camping, movies, and spending time with friends and family. Whether you want to come out and just have fun or challenge yourself to play at the next level, Danny will be your guy!